TERMA will be present at SNA 2018 National Symposium

شركة ترما الدنماركية تشارك بشكل واسع في المعرض
--------------------------------------------------------
SNA 2018: U.S. Navy to Evaluate SAAB AUV62-AT ASW Training System

البحرية الامريكية تقيم اداء نظام التدريب ضد الغواصات السويدي التابع لشركة ساب 
Defence and security company Saab will demonstrate its anti-submarine warfare (ASW) training system, the AUV62-AT, for the U.S. Navy (USN). The AUV62-AT is an artificial acoustic system that mimics a submarine.

The USN will evaluate Saab's AUV62-AT against USN systems through the Foreign Comparative Testing (FCT) Program. The demonstration is planned for summer 2018, with an option to continue testing into 2019. The USN is investigating a replacement to its current ASW training system for its Undersea Warfare Training Range.

"With submarine usage on the rise, anti-submarine warfare training is more crucial than ever. Some of today's submarines are armed with heavyweight torpedoes that can destroy a massive vessel rather than simply disable it. AUV62-AT prepares operators for this threat," says Gِrgen Johansson, Senior Vice President and head of Saab´s Business Area Dynamics.
Saab's AUV62-AT package trains operators in submarine surveillance, detection, identification, classification, and target engagement. The AUV62-AT is an artificial acoustic system that mimics a submarine in a way that is compatible with any torpedo- and sonar system on the market today. The system fully replaces the use of a submarine in the role as a maneuvering training target and can be launched from a ship, a submarine, or shore. The system is in service today with a number of countries worldwide.
Saab's AUV62-AT package trains operators in submarine surveillance, detection, identification, classification, and target engagement.
--------------------------------------------------------------
SNA 2018: BAE Systems Unveils the Adaptable Deck Launcher

شركة BAE Systems تستعرض قواذف جديدة قابلة للتعديل و التكيف مع مختلف انواع السفن
At the Surface Navy Association's (SNA) 2018 National Symposium currently held near Washington DC, BAE Systems unveiled the Adaptable Deck Launcher, or ADL, capable of launching multiple missile types from multiple platforms for multiple mission scenarios.

The Adaptable Deck Launcher, or ADL, meets the need for a fixed angle, low elevation, deck-mounted ship defense launching system (SDLS) for near-term application onboard U.S. Navy and allied ships. The ADL is fully compatible with the Evolved SeaSparrow Missile (ESSM), in the Mk 25 Quad Pack Canister, as well as other canisters compatible with the Mk 41 Vertical Launching System (VLS). Launch control can be provided by the Mk 41 VLS electronics suite and other launch control systems.

Providing a straightforward approach to deploying ESSM in non-Mk 41 VLS 41 ships, ADL benefits from a modular design that allows any number of launch cells to be configured as low angle, deck-mounted launchers for varying ship applications. The ADL is deployed with a protective enclosure to minimize radar signature, maintenance, and to provide protection for the encanistered missiles and service connections. The system is reloadable and will support numerous launches during its service life.
In Proof of Concept demonstrations, ADL successfully launched an ESSM from an ADL-enclosed Mk 25 Quad Pack Canister, verifying that ADL meets requirements for missile egress and gas management and provides adequate launcher structural support, while proving applicability of a Mk 41 VLS Launch Control System variant for SDLS operation.
This identical approach also applies to other missiles and missions including Surface Strike, Air Defense, and Anti-submarine warfare. The ADL answers the call for Distributed Lethality and Distributed Maritime Operations for platforms big and small. Direct applications include LCS, FFG(X) as well as big deck amphibious ships and carriers.
ADL provides near-term, "VLS-like" reliability, and allows low cost operation, leveraging the existing Mk 41 VLS logistics system. The design meets shipboard marinization and survivability requirements and provides armored protection against ballistic threats.
Adaptable Deck Launcher scale model on BAE Systems stand at SNA 2018

-----------------------------------------------------------------------
U.S. Navy tests new joint-air-to-ground missile on AH-1Z helicopter

البحرية الامريكية تختبر الصاروخ الجديد JAGM جو سطح علي الهيلكوبتر AH-1Z
The U.S. Navy successfully completed its first Joint Air-to-Ground Missile (JAGM) flight test on the AH-1Z helicopter Dec.5 at Patuxent River.
During the flight, aircrew aboard the AH-1Z navigated the missile through various operational modes and exercised its active seeker to search and/or acquire targets, demonstrating its compatibility with the aircraft.
"Initial results from the flight indicate the missile performed as planned," said Liam Cosgrove, JAGM flight test lead. "We will continue to conduct a series of tests to prepare for live fire testing of the JAGM off the AH-1Z scheduled for early this year."
JAGM, a joint program with the Army, is a precision-guided munition for use against high value stationary, moving, and relocatable land and maritime targets. It utilizes a multi-mode seeker to provide targeting day or night in adverse weather, battlefield obscured conditions and against a variety of countermeasures.
"This missile will provide increased lethality and better targeting capabilities, beyond the Hellfire's laser point designating capability that the AH-1Z currently has in theater today," said Capt. Mitch Commerford, Direct and Time Sensitive Strike (PMA-242) program manager.
JAGM is managed by the Program Executive Office for Missiles and Space, Redstone Arsenal, Alabama. It will initially be employed on the AH-64 Apache and Marine Corps' AH-1Z helicopters and is compatible with any aircraft that can carry Hellfire missiles. The Army will will complete a 48 shot test matrix by May 2018 on AH-64 Apache aircraft in support of Milestone C.
An AH-1Z Helicopter carrying the Joint-Air-to-Ground Missile (JAGM) at Naval Air Station, Patuxent River, Md. (U.S. Navy photo)

____________________________________________
SNA 2018: Lockheed Martin Unveils its FFG(X) Frigate Design

لوكهيد مارتن تستعرض تصمبم فرقاطة جديدة من فئة الحرية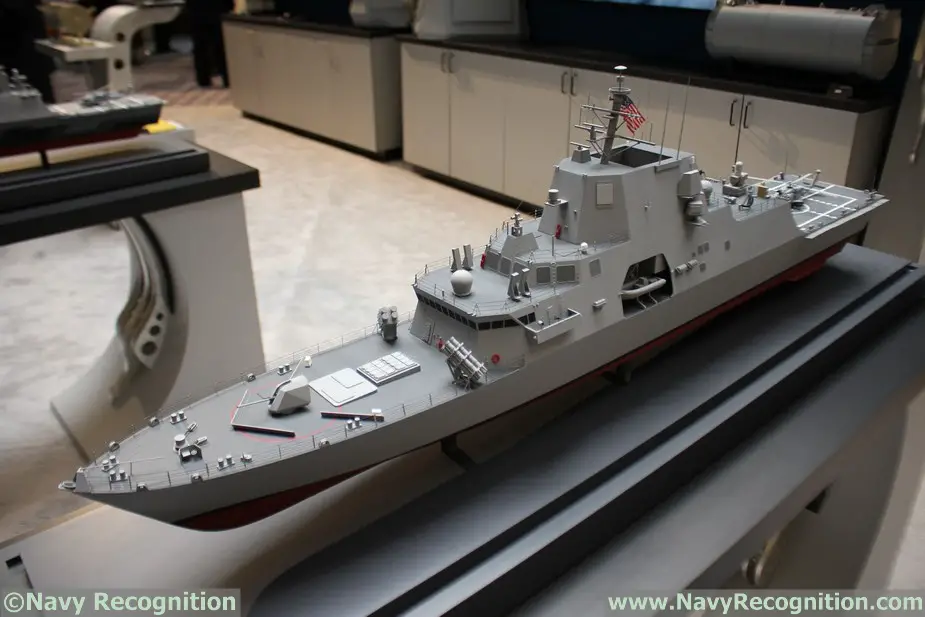 The new Frigate would likely replace the troubled, very modular, Littoral Combat Ships (LCS) for typical "frigate missions". The U.S. Navy is requesting the FFG(X) to conduct the following missions:
- Over the horizon anti-surface warfare (ASuW )
- Anti-submarine warfare (ASW)
- Independently escort logistics ship convoys
- Electronic warfare (EW)
- Electronic signals intelligence and collection (ELINT)
The frigate displacement wasn't mentioned in the RFI, but it is likely to be comprised between 4000 tons (if the design is to stay as close as possible to the LCS) and in excess of 6000 tons (in view of the requirements set by the U.S. Navy, which is particularly interested on how the shipbuilders can fit VLS for ESSM and Standard Missiles and how many).
The U.S. Navy intends to award a Detail Design and Construction contract for the first FFG(X) in 2020. 
The US Department of Defense released a Request for Information (RFI) in July 2017 to let the industry know what the U.S. Navy is expecting from the Fast Frigate, Guided (Experimental) or FFG(X). The RFI says, "A competition for FFG(X) is envisioned to consider existing parent designs for a Small Surface Combatant that can be modified to accommodate the specific capability requirements prescribed by the US Navy."
The U.S. Navy wants a frigate that can keep up with carrier strike groups as well as conduct missions on its own. "The FFG(X) will normally aggregate into strike groups and Large Surface Combatant led surface action groups but also possess the ability to robustly defend itself during conduct of independent operations while connected and contributing to the fleet tactical grid." The U.S. Navy expects the frigate to be survivable in complex scenarios: "FFG(X) will perform its missions in complex electronic warfare and anti-ship missile threat environments".